---
---
Dale of Merchants Collection on itsenäinen peli, joka on suunnattu Dale of Merchants -sarjan faneille. Peli tarjoaa uusien eläinväkipakkojen lisäksi eläinväkihahmot, jotka antavat peliin lisätoimintoja. Pelin laatikko on aiempaa suurempi ja siihen mahtuu kaikki sarjan nykyisten ja tulevien pelien sisältö.
Pelin mukana tulee 6+ täysin uutta eläinpakkaa. Koe uusia ja jännittäviä haasteita yhdistämällä ne aikaisempien osien pakkojen kanssa. Esimerkkejä uusista eläimistä ovat muun muassa varakkaat tuatarat sekä yhteisölliset keisaripingviinit. Voit sekoittaa pakkoja keskenään kaikkien sarjan osien kanssa. Kaikki sisältö on täysin yhteensopiva Dale of Merchants -sarjan muiden pelien kanssa.
Ennennäkemättömänä lisäyksenä sarjaan ovat hahmokortit. Jokainen pelaaja voi halutessasi aloittaa pelin yhden hahmokortin kanssa, joka antaa sen haltijalle uniikin ja voimakkaan kyvyn. Dale of Merchants Collection sisältää tusinoittain näitä hahmokortteja, joilla voit lisätä syvyyttä ja vaihtelua pelikokemukseesi.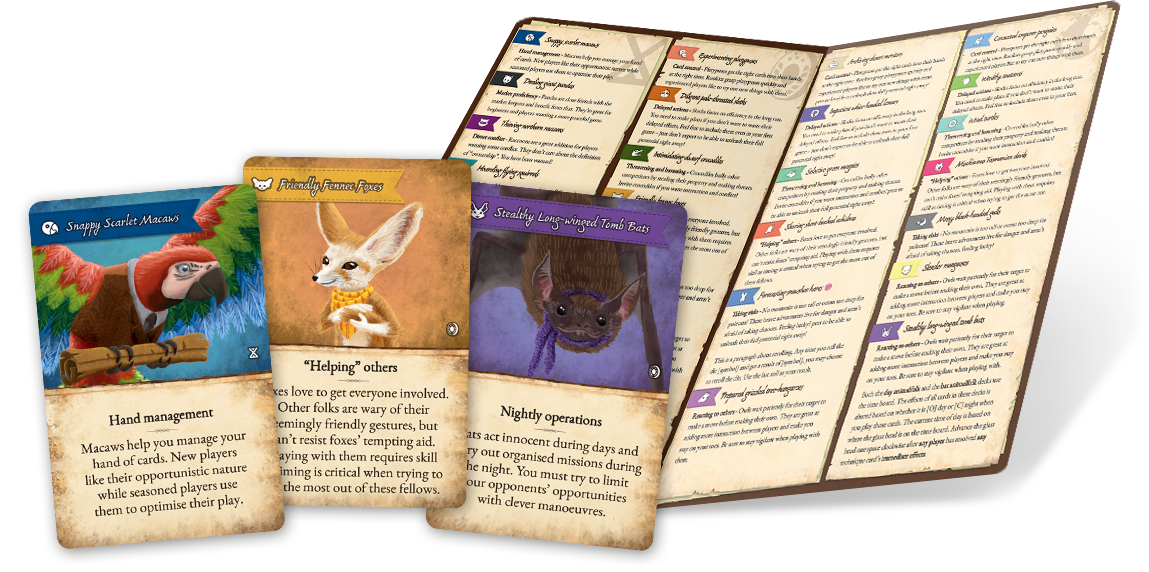 Dale of Merchants Collection tarjoaa kätevän organisointiratkaisun sarjan keräilijöille. Nyt voit säilöä kaikki saatavilla olevan eläinpakat saman laatikon sisällä. Mukana on myös kätevät erottimet, joiden avulla pakkojen järjestäminen ja pelin aloittaminen on entistä vaivattomampaa. Tämän lisäksi laatikosta löytyy kattava lista kaikista pakoista kuvauksien kera. Jos pakkojen määrä tekee niiden valinnasta hankalaa, voit käyttää mukana olevia kortteja arpoaksesi käytettävät pakat.
Muutaman pelin mukana tulevan uuden kortin efekti kortti aiheuttaa sarjan edellisten osien kanssa pelillisiä ongelmia. Tästä johtuen olemme tehneet näihin kortteihin pieniä muutoksia. Uudet kortit ovat saatavilla päivityspaketissa.
Pelisarjan sivulta näet, millä eri kielillä Dale of Merchants on julkaistu.
---